SCC takes pride in its Sustainability!  Do you?  
Here are a couple ways that you may incorporate many of the sustainability programs we have on campus into your lifestyle and home!
Recycle
Most cities provide free use and collection of one 90 or 200 gallon recycling bin per household in which you may place your plastic containers numbered one through seven, paper, cardboard, glass, and metals.  Visit the bottom portion of our Recycling page for more details on this program for your specific city!
Conserve Energy
Make an appointment with your utility company to schedule an energy audit and see how you can save energy in your home.
Unplug all appliances and turn off power strips you are not using.
Put all devices in power-saving mode, reduce their brightness, and make sure they are set to go to sleep when not used.
Only do full loads of laundry, then allow them to air dry.
Use a non-emitting means of altering room temperature and light settings in a room, such as opening a window or the blinds.
Save Water
Report or fix leaks right away, and never leave the water running!
Replace water-intensive plants with drought-tolerant species.  Not only does this save water, it also helps preserve habitats and biodiversity of native wildlife.
Use only as much water as is necessary for each task.
Visit http://www.azdor.gov/Forms/Credits.aspx for information on tax incentives for conserving water in your home or business!
Garden and Buy Locally
Clean Green
Many household cleaning products contain chemicals which are hazardous and harm the environment.  Keep these out of your house by purchasing non-toxic, biodegradable cleaning products made only from renewable resources!  Vinegar and baking soda, for example, are each wonderful natural cleaners.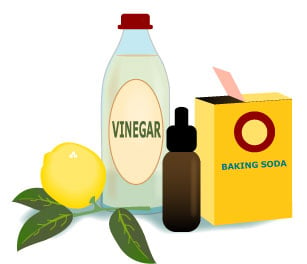 Always be sure to dispose of chemicals properly!
Prevent contamination by not allowing them to go in the trash or down the drain.
You can find information on green cleaning certifications here.
Use Alternative Transportation
Make use of the city bus or light rail as part of your commute.  You can also carpool instead of driving alone, or enjoy a bike ride or a walk instead!   These options can help both save money and the environment, even if you switch to them just a couple of times each week.
Visit our Transportation Section now to learn more about your local options!
Community Service
SCC strives to incorporate social justice and opportunities to give back to our community through our Office for Service Learning and Leadership.  This office offers service opportunities through Artie's Community for Service student group, as well as a series of courses and lectures open to all students.
Reduce Waste
Donate unwanted items to those who need them rather than throwing them away.  SCC organizations often host donation drives to give to those who are in need of help.  Keep an eye out for these collection bins across campus!
You can also find information on Volunteer and Donation opportunities in Scottsdale at: http://www.scottsdaleaz.gov/shares.
Here are a couple of nearby locations accepting donations:
Goodwill Donation Center:  8912 E Vía Linda
The Salvation Army:  2324 N Scottsdale Rd.  Tempe, AZ 85281Scottsdale, AZ 85258
Scottsdale Public Libraries (Book Donation): http://www.scottsdalelibrary.org/content/donations 
Arizona Wheels for Wishes  (Car Donation): http://arizona.wheelsforwishes.org/scottsdale-az/ 
Total Page Visits: 0 - Today Page Visits: 0